Applying Med Chem Transformations and Multi-Parameter Optimisation
Applying Medicinal Chemistry Transformations and Multiparameter Optimization to Guide the Search for High-Quality Leads and Candidates, M. D. Segall, E. J. Champness, C. Leeding, R. Lilien, R. Mettu, B. Stevens, J. Chem. Inf. Model., 2011, 51(11) pp. 2967-2976
DOI: 10.1021/ci2003208.
This article on applying med chem transformations and multi-parameter optimisation describes the concepts and algorithms underlying StarDrop's Nova module.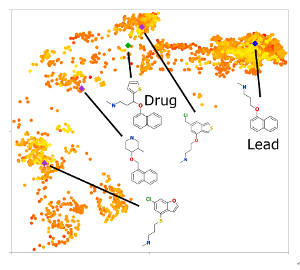 Abstract
In this article we describe a computational method that automatically generates chemically relevant compound ideas from an initial molecule, closely integrated with in silico models and a probabilistic scoring algorithm to highlight the compound ideas most likely to satisfy a user-defined profile of required properties. The new compound ideas are generated using medicinal chemistry 'transformation rules' taken from examples in the literature. We demonstrate that the set of 206 transformations employed is generally applicable, produces a wide range of new compounds and is representative of the types of modifications previously made to move from lead-like to drug-like compounds. Furthermore, we show that more than 94% of the compounds generated by transformation of typical drug-like molecules are acceptable to experienced medicinal chemists. Finally, we illustrate an application of our approach to the lead that ultimately led to the discovery of Duloxetine, a marketed serotonin reuptake inhibitor.
Download this article on applying med chem transformations and multi-parameter optimisation now as a preprint via the button below. Alternatively, view the final published version on the journal webpage.
INTERESTED IN DRUG OPTIMIZATION?
With its comprehensive suite of integrated software, StarDrop™ delivers best-in-class in silico technologies within a highly visual and user-friendly interface. StarDrop™ enables a seamless flow from the latest data through predictive modelling to decision-making regarding the next round of synthesis and research, improving the speed, efficiency, and productivity of the drug optimisation and discovery process.