We hope you have the opportunity to join our webinars or to meet us at one of this year's conferences or events.
Past and Future
Webinars and Events
View our recent webinar; The launch of StarDrop 7.2 –
Introducing Inspyra
We demonstrate how Inspyra harnesses your expert chemistry knowledge and the exploratory power of generative methods to help you identify optimal compounds faster. As you work, Inspyra continuously generates new compound ideas in the background while learning from your interactions.
View our webinar – the harnessing of Generative Chemistry
Why have generative chemistry methods not redefined modern drug discovery and compound idea generation?
This session sheds light on a typical shortcoming of generative methods related to how to prioritise promising over unsuitable directions for exploration.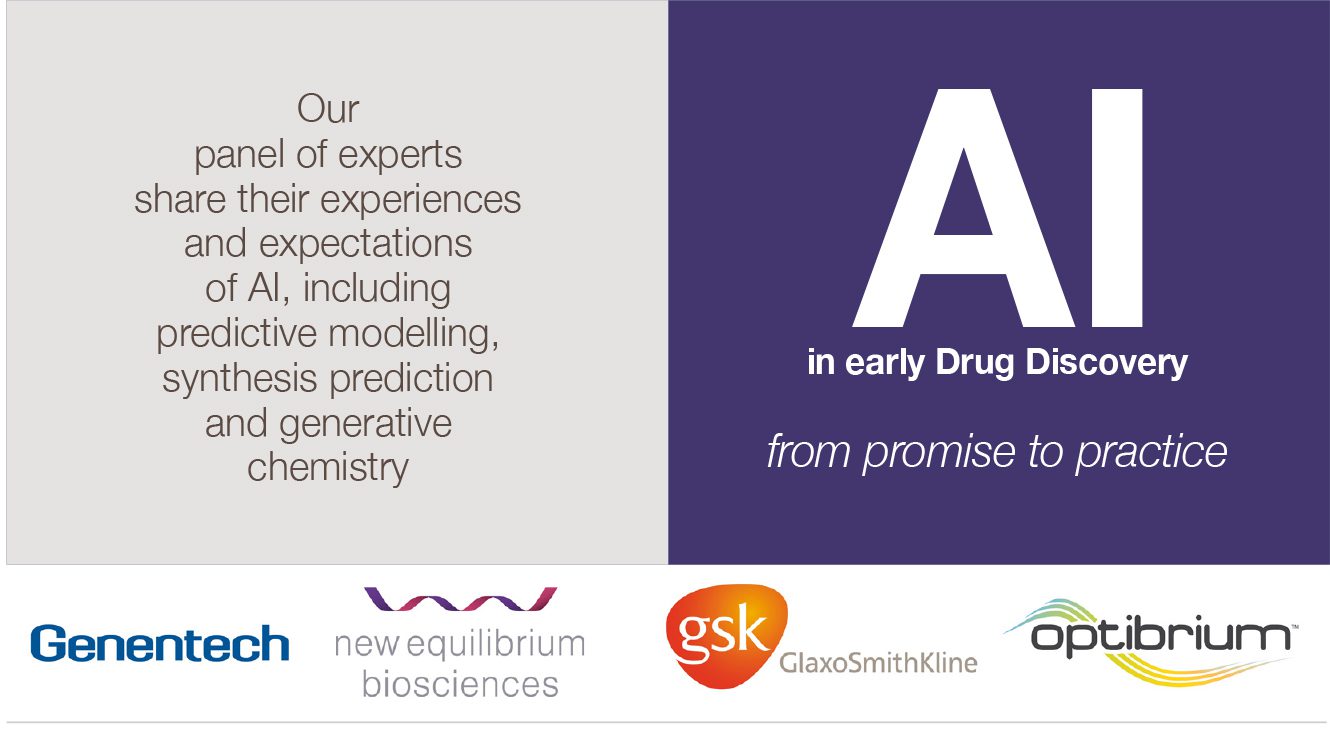 AI in early Drug Discovery: From Promise to Practice
Wednesday 18 May – 4.00pm (BST)
Join, Jeff Blaney (Genentech), Darren Green (GSK), Julian Levell (New Equilibrium), Matt Segall (Optibrium) who will discuss the state of AI in early drug discovery from hit to preclinical candidate and share their experiences with and expectations of AI, including predictive modelling, synthesis prediction and generative chemistry. Hear about the successes of AI and an outlook on what AI needs to achieve to really transform drug discovery.
Previous Webinars and Events
Webinar; 10 May 2022
AI solutions from hit to candidate
Presented by Samar Mahmoud and Matt Segall
Webinar; 2 March 2022
Launch of StarDrop 7.2 – introducing Inspyra
Presented by Matt Segall and Peter Hunt
Webinar; 16 October 2021
Harnessing Generative Chemistry – How Scientists Can Guide Compound Idea Generation
Presented by Ed Champness, Peter Hunt and Joe McDonald.
Webinar; 19 October 2021
Imputation of Sensory Properties Using Deep Learning
Presented by Tamsin Mansley, Samar Mahmoud and Dmitriy Chekmarev.
Webinar; 14 September 2021
3D Ligand-Based Drug Design; Understand binding conformations to identify and optimise novel active compounds
Presented by Peter Hunt, Ajay Jain and Matt Segall.
Webinar; 15 June 2021
Data visualisation: Saying it all in a bite-sized chunk
Presented by Ed Champness and John Norman.
Webinar; 2 June 2021
Optimizing Kinase Profiling Programs with Deep Learning
Presented by Matt Segall, Samar Mahmoud and Fabio Broccatelli
Webinar; 11 May 2021
eSim-3D: Electrostatic-Field and Surface-Shape Similarity for Ligand-Based Drug Design
Presented by Ajay N. Jain and Matt Segall
Webinar; 29 April 2021
In Silico Transporter Modeling and its Role in Computational Toxicology
Presented by Gerhard Ecker, Bailey Montefiore and Matt Segall
Webinar; 30 March 2021
A Global Deep Learning Model for Global Health Drug Discovery
Presented by Samar Mahmoud and Matt Segall
Webinar; 09 March 2021
Cerella: Reduce the time and cost of your discovery cycles with deep learning
Presented by Matt Segall
Webinar; 23 February 2021
Reaction-based Library Enumeration
Presented by Matt Segall, Peter Hunt and Imants Zudans
Webinar; 2 February 2021
From Similarity to SAR – Interactive navigation of similarity relationships to guide optimisation
Presented by Matt Segall and Peter Hunt
Webinar; 11 November
Presented by Matt Segall, Nigel Greene and Tom Whitehead
Webinar; 17 November
Virtual symposium & webinar
Presented by;
Optibrium and Collaborative Drug Discovery
Webinar; 27 October
Deploying Cerella™ for Active Learning using Deep Learning Imputation
Presented by Matt Segall, Ben Irwin and Gareth Conduit
Webinar; 8 September
Multi-parameter Optimisation in Practice:
How can I quickly find high-quality compounds for my project?
Presented by Ed Champness and Tim Hohm
Webinar; 9 June
AI-guided Design of Antimalarials with In Vitro Validation
Presented by Ben Irwin, Matt Segall and Professor Matthew Todd
Webinar; 3 June
SCI-RSC Workshop on Computational Tools for Drug Discovery
Guided Multi-Parameter Optimisation of 2D and 3D SAR
Hosted by SCI-RSC
Event Speaker: Matthew Segall
Webinar; 2 June
Applications of Alchemite™ to Drug Discovery
Hosted by our colleagues at Intellegens
Event Speakers: Tom Whitehead and Matthew Segall
Join The
Optibrium Community
Whichever of our products you use, this community has been set up to provide you with direct access to the Optibrium support team and other users.
Use our community to connect with other users, download StarDrop™ add-ins, ask questions in the forum, read articles & presentations and submit your own comments.