Predicting Regioselectivity of AO, CYP, FMO and UGT Metabolism Using Quantum Mechanical Simulations and Machine Learning
M. Öeren, P. J. Walton, J. Suri, D. J. Ponting, P. A. Hunt, and M. D. Segall, J. Med. Chem. 2022, 65, 20, 14066–1408.
DOI: 10.1021/acs.jmedchem.2c01303
This paper describes the prediction of the regioselectivity of metabolism by AOs, FMOs and UGTs for humans and CYPs for three preclinical species. The research extends from previous work developing the StarDrop™ P450 module. Visit the P450 webpage to discover how StarDrop can help you model metabolism.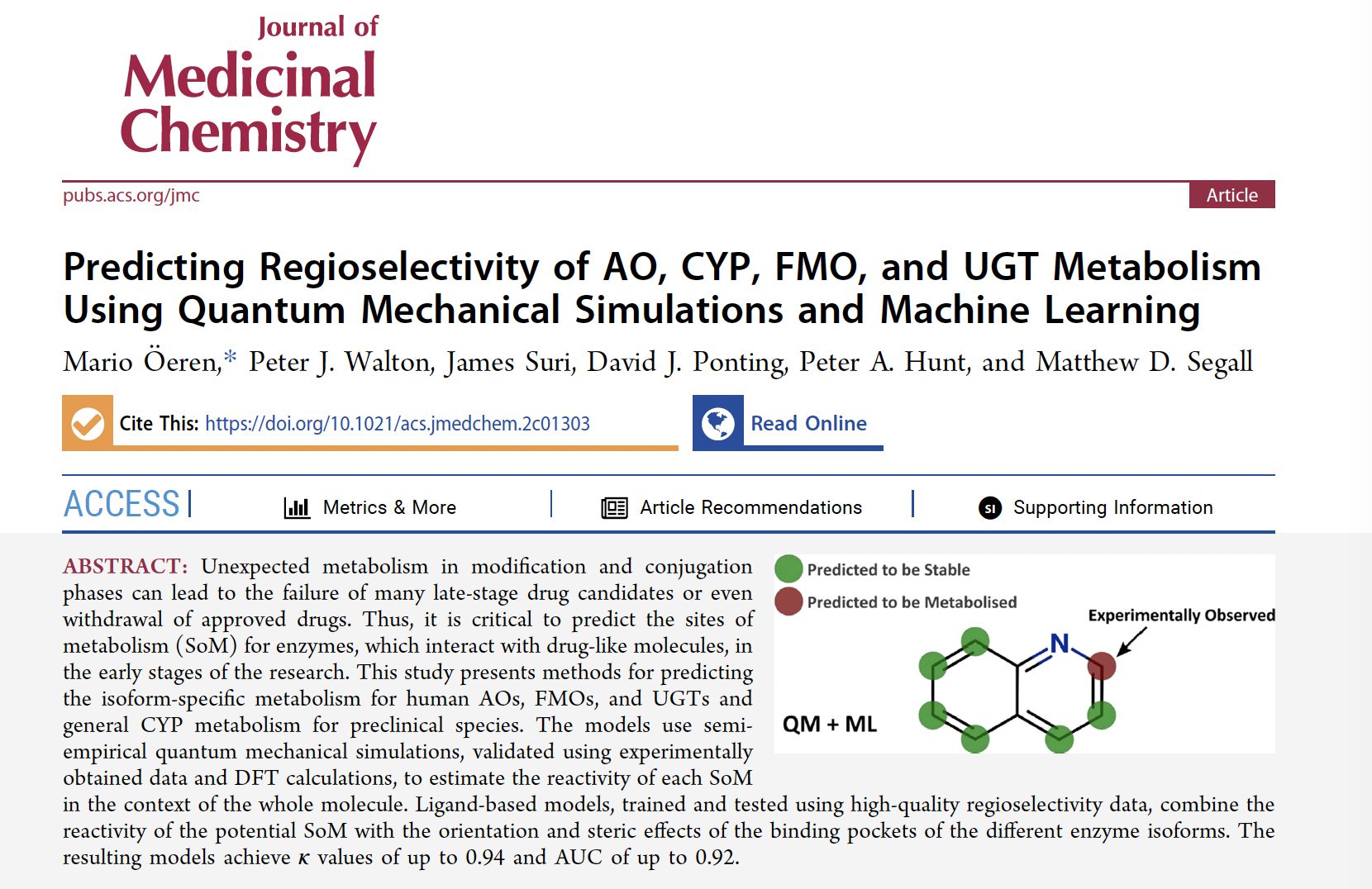 Abstract
Unexpected metabolism in modification and conjugation phases can lead to the failure of many late-stage drug candidates or even withdrawal of approved drugs. Thus, it is critical to predict the sites of metabolism (SoM) for enzymes, which interact with drug-like molecules, in the early stages of the research. This study presents methods for predicting the isoform-specific metabolism for human AOs, FMOs, and UGTs and general CYP metabolism for preclinical species. The models use semi-empirical quantum mechanical simulations, validated using experimentally obtained data and DFT calculations, to estimate the reactivity of each SoM in the context of the whole molecule. Ligand-based models, trained and tested using high-quality regioselectivity data, combine the reactivity of the potential SoM with the orientation and steric effects of the binding pockets of the different enzyme isoforms. The resulting models achieve κ values of up to 0.94 and AUC of up to 0.92.
You can download this article as a preprint or visit the journal webpage via the buttons below.
INTERESTED IN METABOLISM?
With its comprehensive suite of integrated software, StarDrop™ delivers best-in-class in silico technologies within a highly visual and user-friendly interface. StarDrop™ enables a seamless flow from the latest data through predictive modelling to decision-making regarding the next round of synthesis and research, improving the speed, efficiency, and productivity of the drug optimisation and discovery process.