When Two are not Enough: Lead optimization beyond matched pairs
This article, co-authored with Noel O'Boyle and Roger Sayle of NextMove Software, was published in Drug Discovery World, Fall 2015 and discusses how matched series analysis goes beyond matched molecular pairs to identify more relevant chemical substitutions with which to improve target potency.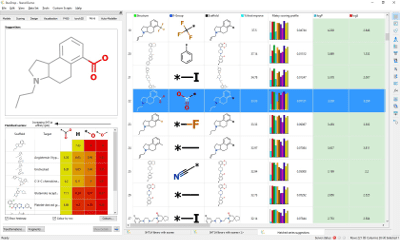 Abstract
Lead optimization projects progress by making successive enhancements to one or more starting structures. This is a classic multi-objective optimization procedure where the goal is not only to improve potency but also to improve physicochemical and absorption, distribution, metabolism and elimination (ADME) properties. For physicochemical and ADME properties, the popular matched molecular pair analysis method has been a successful strategy; however, it notably fails in the goal of improving potency. Here we discuss a lead optimization approach involving matched series, the extension of matched pairs to more than two R-groups, which can successfully be used to guide molecular design towards improved potency. Furthermore, this approach retains the attractive features of matched pair analysis in that it is entirely driven by experimental data and is a natural fit to the medicinal chemistry approach of designing analogs by successive small changes to an existing molecule.
Download a preprint as a PDF.