AI Drug Discovery: Innovate UK Funded Project Results in Next-Generation Technology
J. Overington, T. Whitehead and M. Segall, International Pharmaceutical Industry, 2021, 13, 1
This article describes a public-private partnership, known as the DeepADMET project. It is a collaboration between Optibrium, Intellegens and University of Cambridge, supported by Innovate UK. The project illustrates how cutting-edge science, software engineering and drug discovery can come together to deliver state-of-the-art technology, which will have a significant impact on medicine development. The  result of this partnership is our Cerella™ technology.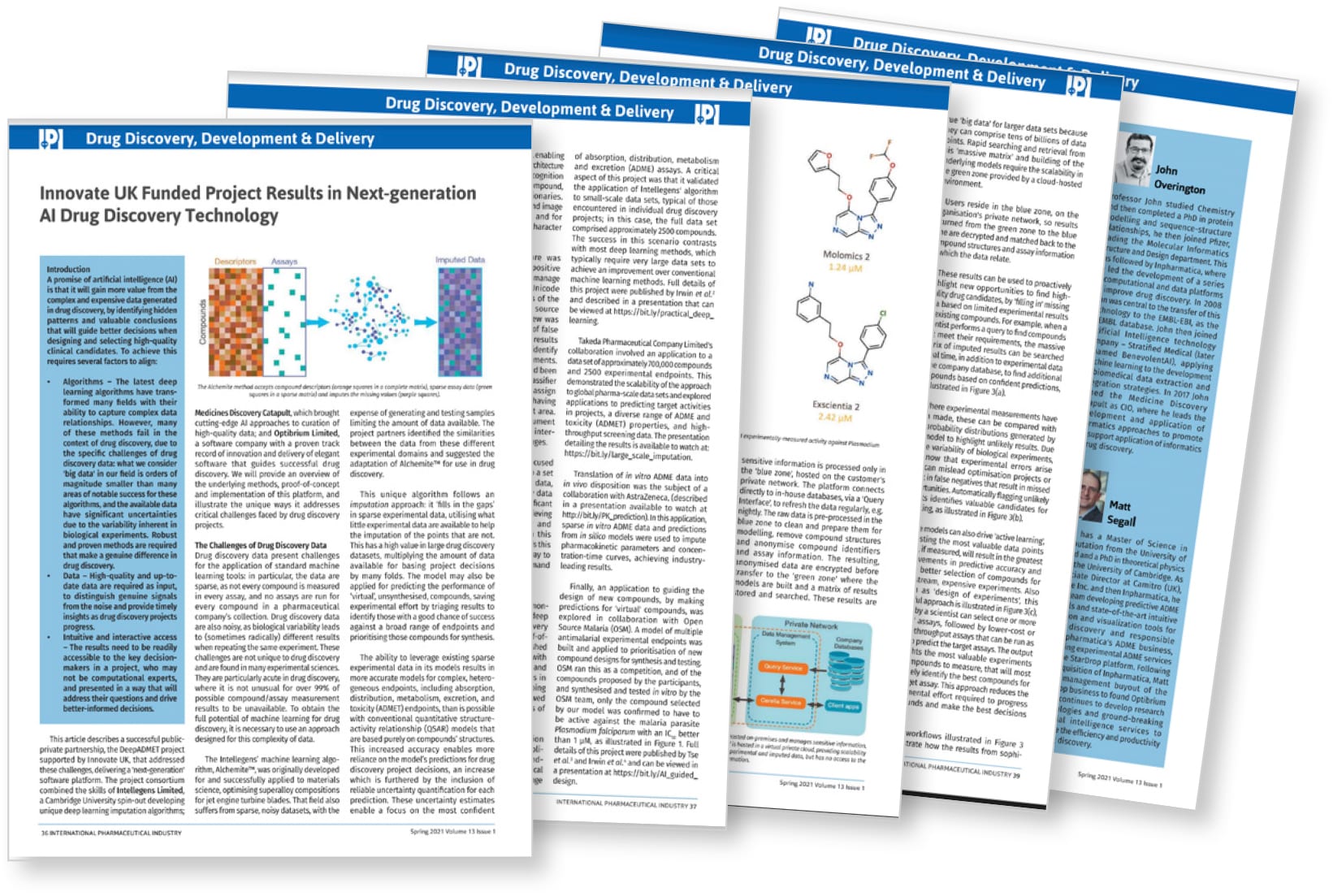 Introduction
Artificial Intelligence (AI) promises to gain more value from the complex and expensive data generated in drug discovery. By identifying hidden patterns and valuable conclusions, it will guide better decisions when designing and selecting high-quality clinical candidates. However, several factors must align to achieve this:
Algorithms – The latest deep learning algorithms have transformed many fields. This is due to their ability to capture complex data relationships. However, many methods fail in the context of AI drug discovery. This is owing to the specific challenges of drug discovery data. What we consider 'big data' in our field is orders of magnitude smaller than many areas of notable success for these algorithms. Where data is available, it has significant uncertainties due to the variability inherent in biological experiments. Robust and proven methods are required that make a genuine difference in drug discovery.
Data – High-quality and up-to-date data are required as input. This is to distinguish genuine signals from the noise and provide timely insights as drug discovery projects progress.
Intuitive and interactive access – The results need to be readily accessible to the key decision-makers in a project. They may not be computational experts. It must be presented in a way that will address their questions and drive better-informed decisions.
Download a PDF of the article via the button below. Alternatively, visit our Cerella or Augmented Chemistry webpages to find out more about our AI offerings. Discover more resources on AI drug discovery in our Community section.
INTERESTED IN AI FOR DRUG DISCOVERY?
Cerella™ is a unique artificial intelligence platform which supports medicinal chemists and other discovery scientists. It escalates success rates and advances small molecule drug discovery, from working with early hits to nominating preclinical candidates.
Cerella's AI platform is proven to overcome limitations in drug discovery data, confidently delivering results and seamlessly integrating with your med chem software platforms.