Maximise
the success of your
preclinical
discovery
Discover more…
Supercharge
you informatics with
AI
technology
Deliver results…
Empower
your
discovery
scientists
Proven success…
Trial Cerella
™

AI on your drug discovery projects and data
Guide your Projects with Proven AI Drug Discovery
Cerella™ uses a unique deep learning approach to overcome limitations in drug discovery data, reducing costs and accelerating drug discovery cycles. Cerella highlights high-quality compounds with confidence, finding hidden opportunities caused by missing, uncertain or inaccurate data and prioritises the most valuable experiments.  
Reducing the time and cost of your discovery cycles
Proactively highlight high-quality compounds by 'filling in' sparse data
Increase confidence in decision making, identify hidden opportunities, flag outliers and false negatives
Help you translate artificial intelligence insights into the planning of experiments to focus on the most valuable measurements
Enable you to gain more value from your compound data, accurately predicting complex endpoints, intractable with conventional QSAR modeling
Add value at any scale, from individual project datasets to global compound data repositories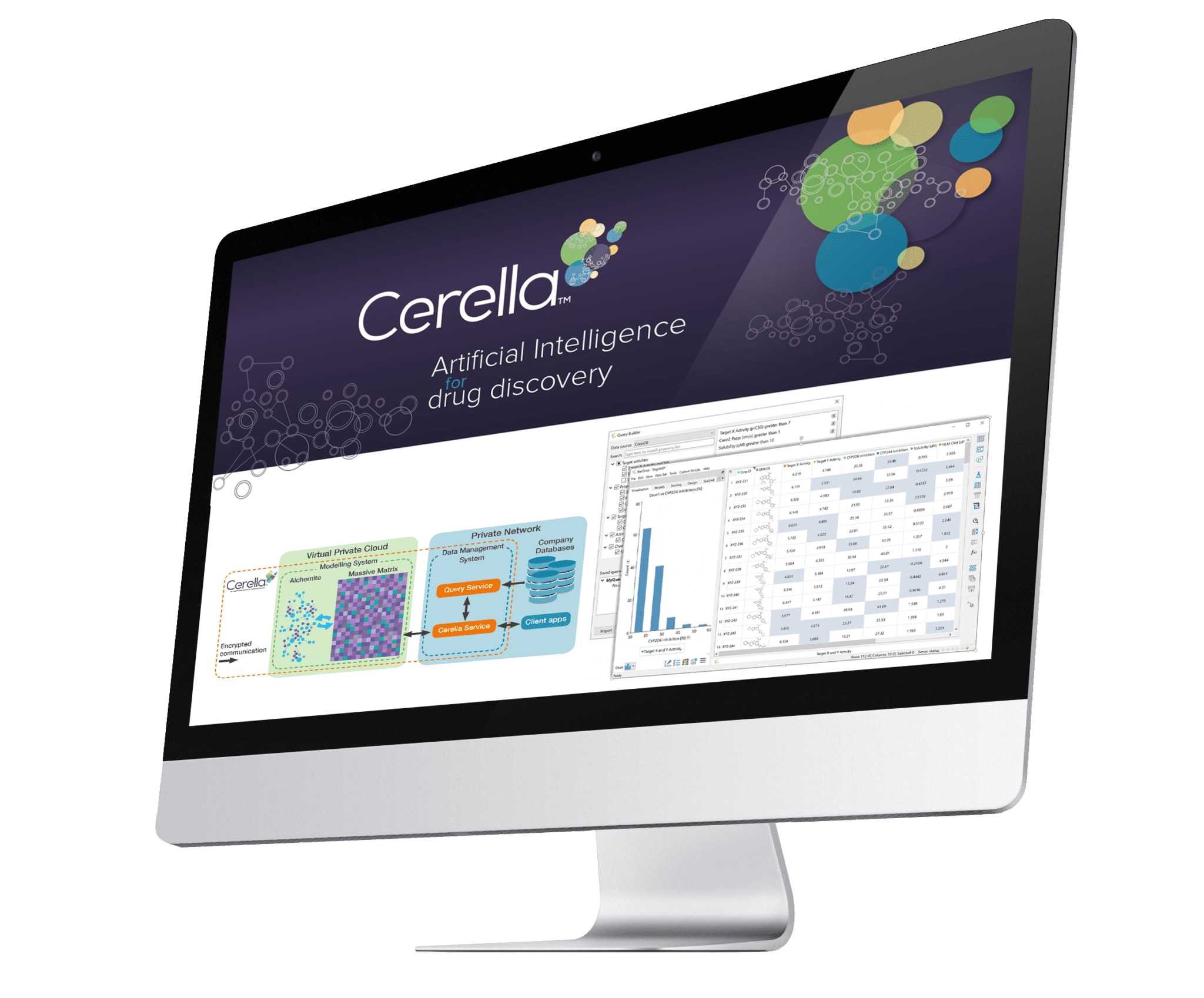 Cerella uses a unique, peer-reviewed deep learning method, with demonstrated successes in drug discovery.
Cerella™ is powered by 
Alchemite™
,
a deep learning method developed by Optibrium's technology partner 
Intellegens Limited
.
In collaboration with pharmaceutical and biotechnology partners, Optibrium has rigorously demonstrated Alchemite's unique benefits over conventional modelling methods in peer-reviewed studies, resulting in reductions in cost and time of discovery cycles. Cerella™ has proven its benefits in several collaborations with pharma and biotech organisations, working with individual project-level datasets up to global compound data repository level investigations.
4 Case Studies in 10 minutes
Cerella offers cloud-enabled deployment, scaling from individual projects to global pharma databases. Data in the cloud are anonymised and fully encrypted in transit and at rest, and a multi-level security model controls access.
Security Concept and Deployment Options in 3 minutes
Got an Enquiry?
Get In Touch
To trial any of our products or to find out more about Optibrium, please complete the contact form and add details of your particular interest. Further information on our office locations and details can be found on our Contact page.